"Waiting On" Wednesday började hos Jill på
Breaking the Spine
och är till för att visa böcker man längtar efter.
All the Bright Places av Jennifer Niven
Releasedatum: 6 januari 2015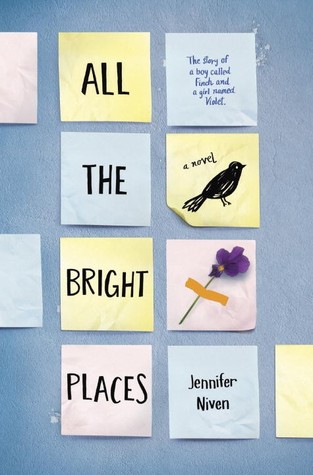 Theodore Finch
is fascinated by death, and he constantly thinks of ways he might kill himself. But each time, something good, no matter how small, stops him.
Violet Markey
lives for the future, counting the days until graduation, when she can escape her Indiana town and her aching grief in the wake of her sister's recent death.
When Finch and Violet meet on the ledge of the bell tower at school, it's unclear who saves whom. And when they pair up on a project to discover the "natural wonders" of their state, both Finch and Violet make more important discoveries: It's only with Violet that Finch can be himself—a weird, funny, live-out-loud guy who's not such a freak after all. And it's only with Finch that Violet can forget to count away the days and start living them.
But as Violet's world grows, Finch's begins to shrink.
Tankar:
Petra hade den här på sin WoW för ett par veckor sedan och jag blev väldigt nyfiken på den. Hade aldrig hört talas om den innan men tycker att den låter väldigt bra!